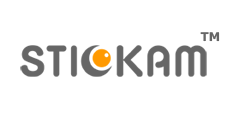 Stickam is a live streaming video chat platform that focuses on broadcasting and having your own channel people can view. People have their own niche radio shows that are planned out with pre-written material, and people also have channels where they simply go online and essentially just hangout with whoever comes by. The "hangout" style channels can actually be just as popular as the planned out ones, either if the person is just very entertaining in general, or, quite frankly, if the person is just very good looking. I suppose it would seem that a combination of the two aforementioned qualities tends to do the best of all, but you get the idea. The cool thing about these channels is you can have as many as five other people also broadcasting their own live webcam streams within the same channel room. This, of course, can make a specific channel much more entertaining. If you're already intrigued, you can check Stickam out at www.stickam.com. If not, keep reading.
The Stickam app community itself is quite popular, and you can see this by all the constant activity occurring right on the homepage, but another way to know for sure is to check out Stickam's Alexa ranking information. A quick look confirms what I expected, they're consistently one of the top 10,000 most visited websites int he world, with majority of US-based visitors. So yea, the site definitely isn't lacking when it comes to having plenty of people online to chat with! And don't get me wrong here, there are plenty of people from other countries too, so if you're trying to branch out you also won't be disappointed.
In terms of Chatroulette and having a similar type of functionality, Stick actually does! This is kind of surprising, because most major video streaming sites such as Tinychat seem to avoid having any sort of random or roulette chatting option, but Stickam does not. In fact, they even have their own special name for it, it's called Stickam Shuffle. The good thing about it is they are very strict on keeping out people who get naked. The bad part about it is you have to be registered, and thus, there is that lack of anonymity so many of us crave. However, personally, I think it's worth it if you don't have to deal with the nastiness of your typical roulette site, just saying!